Marden Medical Centre Annual Flu Immunisation Clinics 2020
In light of the risk of flu and Covid-19 co-circulating this winter, the national flu immunisation programme will be absolutely essential to protecting vulnerable people and supporting the resilience of the health and care system.
Eligible Groups
Achieving maximum uptake of the flu vaccine is of very high priority to us. We will be offering immunisation to the following groups:
all children aged two to eleven (but not twelve years or older) on 31 August 2020 ( some of these children will be immunised in school)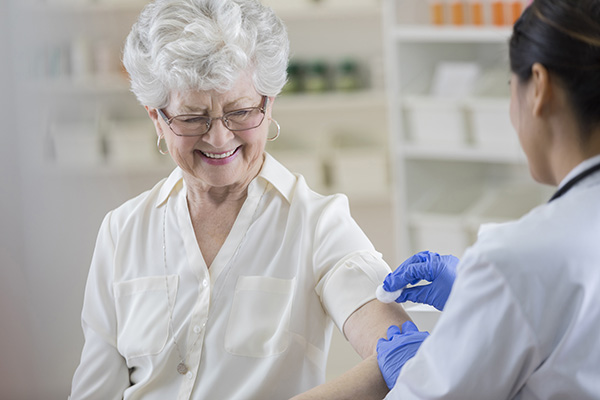 people aged 65 years or over (including those becoming age 65 years by 31 March 2021)
those aged from six months to less than 65 years of age, in a clinical risk group such as those with:
chronic (long-term) respiratory disease, such as severe asthma, chronic obstructive pulmonary disease (COPD) or bronchitis
chronic heart disease, such as heart failure
chronic kidney disease at stage three, four or five  
chronic liver disease
chronic neurological disease, such as Parkinson's disease or motor neurone disease
learning disability
diabetes  
splenic dysfunction or asplenia
a weakened immune system due to disease (such as HIV/AIDS) or treatment (such as cancer treatment)
morbidly obese (defined as BMI of 40 and above)
all pregnant women (including those women who become pregnant during the flu season)
Carers and health and social care staff
In addition to these "regular" eligible cohorts we will also be offering immunisation to:
All those on the NHS Shielded Patient List and their household contacts ( specifically those who expect to share living accommodation with a shielded person most days over the winter months)
Vaccination of those aged 50-64 years and Children
We have not yet been given any information on the proposed immunisation of all those aged 50-64 years of age but this programme will happen after immunisation of those at risk and in eligible groups and will be dependent on vaccine supplies. We are also awaiting PHE guidelines on how children's clinics will be coordinated this year.
Clinic Dates (BY APPOINTMENT ONLY)
Wednesday 30th September, 2-6pm, for patients on the NHS Shielded List and their household contacts
Saturdays 10th   and 17th October, 9-1 and 2-4 for ANYONE AGED 18-65 IN AN AT RISK GROUP AND ANYONE AGED OVER 65
PLEASE DO NOT CONTACT THE SURGERY UNTIL YOU HAVE RECEIVED YOUR INVITATION LETTER
Change to Clinic arrangements this year
Because of the need to continue to protect all our patients and staff from the risk of infection during the pandemic our flu clinics will be organised very differently this year.
All clinics will be run in the surgery waiting room using a "walk through" model with careful attention paid to the need for social distancing and infection control.
All eligible patients will receive a written letter of invitation
Attendance will be by booked appointment only
Administrative staff and immunisers will be wearing full PPE
All patients must wear a face covering unless medically exempt
Please wear loose fitting clothing to allow your upper arm to be easily accessible
There will be no waiting space in the surgery therefore please attend as close to your appointment time as possible
We will have additional immunisers, administrative and voluntary marshals available to minimise waiting times.
There will be a one way system in operation in the surgery and all patients will be asked to follow social distancing rules
Car parking will be limited: please walk or use the library car park. MBC are providing additional capacity in the library car park
If you have mobility issues or are housebound please alert the reception team and we will organise a suitable appointment time outside the usual clinic times
You should not attend the clinic if you are unwell with symptoms of Covid, have been asked to self-isolate because of contact with another individual with Covid. You will be asked these questions and your temperature checked before entering the building
If you have had Covid you should wait for at least 2 weeks after your symptoms have resolved before you attend.
Please ensure you keep looking at our website or Facebook Page for up to date information on all clinics as dates may be subject to last minute changes depending on vaccine availability
Published: Aug 21, 2020